Reading Time:
4
minutes
Looking for some insider tips before you visit Constance Tsarabanjina?
We caught up with Elena Zanella, the hotel's Assistant Resort Manager, for an insider guide to the Madagascar based hotel. From a day in her professional life to enjoying the secret pockets of paradise, Elena shares what she loves about Constance Tsarabanjina and why it is the time to visit now.
Scroll down to find out more.
The love of Madagascar
It's important to be passionate about what you do and love the environment you work in, something Elena feels about Constance Tsarabanjina.
First of all, I love the sea and the islands. I am a marine biologist and I started working in tourism for my love for the sea. I started doing this job to feed my passion for the sea and to live in a place where I could feel at home.

Then I discovered Madagascar, a country rich in history and traditions that made me fall in love with the place. Plus for me Tsarabanjina is magical, when you perceive the magic it becomes difficult to part with it
Has Madagascar been added to your bucket list? Thinking if visiting Constance Tsarabanjina, soon?
Robinson-Crusoe
When you stay at Constance Tsarabanjina, our goal is to help you feel relaxed, disconnecting from the stress of everyday life. This carefree island ambience is what inspired our recent renovations which we hope help transport you to a Robinson Crusoe-like getaway.
Elena notes:

"Tsarabanjina is magical, its beauty lies in the informality of being able to live barefoot without superfluous things and feel free in this wild nature. Guests are also able to disconnect completely here. We do have wifi connection in the villas and at the reception area, but not at the bar or restaurant. This remains a place to chat and discuss and meet different people"
"The recent renovation gives a touch of freshness to our beautiful island. Always a natural decoration with the use of Malagasy craftsmanship, but more light with more clear colour and a good mix between wood and white. We use a lot of raphia, wood and sisal"

Anyone else wanting to pack their bags and visit Constance Tsarabanjina?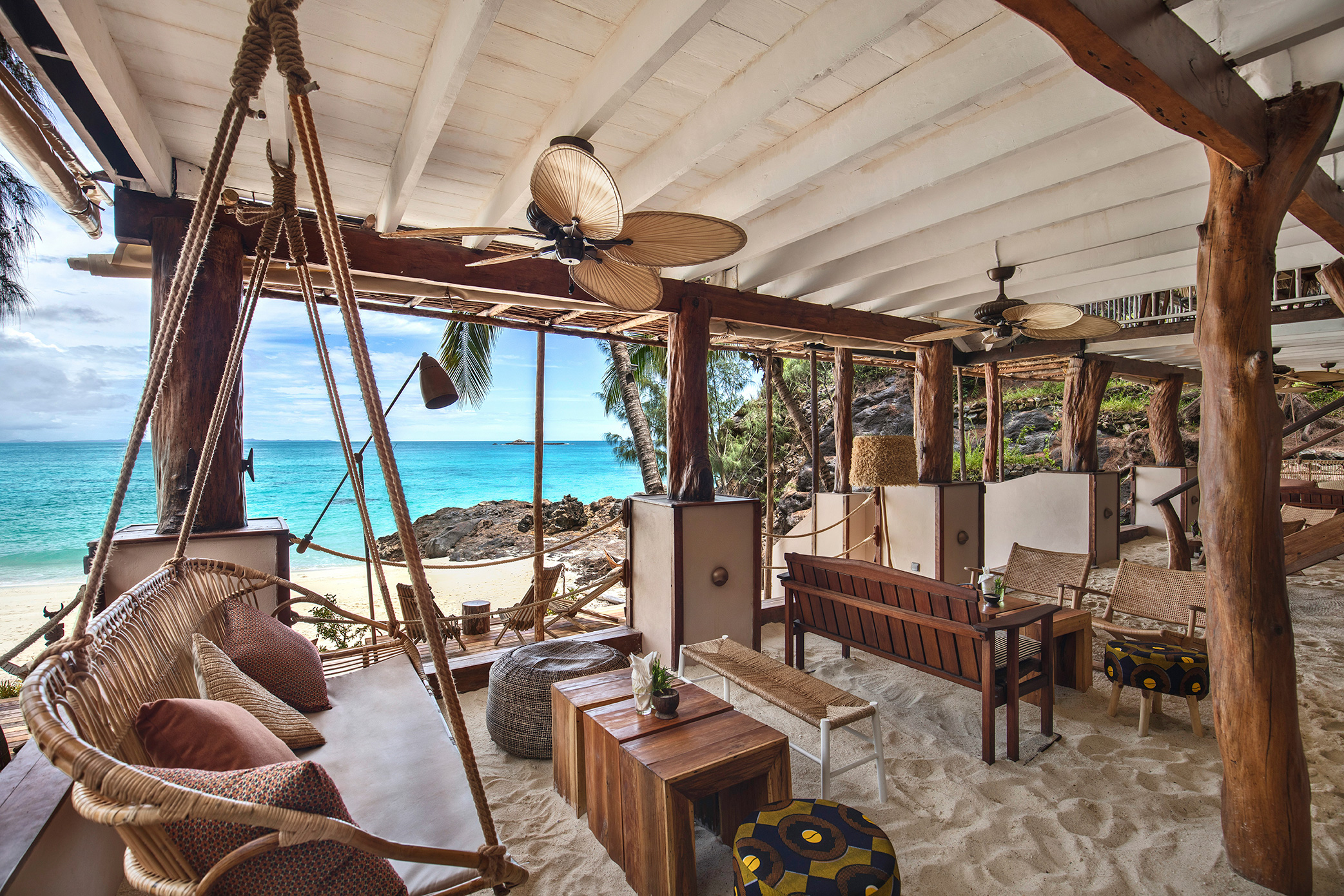 A typical day at Tsarabanjina
From helping guest create a memorable trip or enjoying a quick dip in the Indian ocean, Elena's days at Constance Tsarabanjina are varied and full of action.
While no two days are the same, her perfect day would be spent meeting new guests and enjoying magic Madagascar has to offer.
She explains:

"I love to learn something new every day, meet different people, welcome guests and show them the beauty of this archipelago, improve service with my team. My perfect working day would include the morning meeting, tasty Madagascan breakfast and taking control of the restaurant/bar.


This would be followed by welcoming new guests on the beach and getting them settled. If I'm lucky enough, I'd enjoy a quick swim during my lunch break and later enjoy a cocktail at happy hour."

Sounds like a perfect day in paradise!
Embracing local culture
Madagascar is home to some of the most vibrant and unique culture the world has to offer. Whether it's delicious food or friendly locals, it's great to fully immerse yourself in the unique Madagascan way of life. Elena shares this sentiment :

"There is a word that is often used when you walk among the house in the villages at any time of the day and it is Karibo, which means 'come, you are welcome"

In this time of physical and often cultural isolation in our society, I find this phrase so comforting and beautiful:
"Karibo to all our lovely followers"
Paradise on earth
Undeniably breathtaking, Tsarananjina island with its miles of talc-like beaches, crystal clear water and vibrant nature that gently cups the island, you will feel you are in harmony nature, its a paradise on earth.
"The wild nature, the smiles of our team and the sense of pure uninterrupted serenity"

Some of Elena's favourite things about the island. She explains:

"You don't need a filter for your Instagram snap, it is truly beautiful on its own. A completely untouched pocket of bliss, free of pollution and noise, it's the perfect spot for relaxing"
She strongly recommends all visitors staying at Constance Tsarabanjina to spend some time at the beach and lagoon circling the island.

"I don't know if paradise exists, but if it does, is like our sea and its underwater life. We have the most white beaches that you have ever seen and a clear lagoon full of fishes and alive coral".

A total blissful experience…
Time to visit Tsarabanjina
We understand that it's been a difficult time for many of us, causing concern and even putting our travel plans on pause. However, if you do decide to travel, Constance Tsarabanjina is ideal for a safe and relaxing getaway.
"We have two 250m long beaches for only 12 (or 13) villas. It's the best place to apply distancing with ease".
Elena and the team have ensured that Constance Tsarabanjina is ready to help you relax and disconnect with ease. Sounds idyllic, doesn't it?
👉If you want to plan your unique and safe Madagascan escape, click here!
Are you planning to visit Constance Tsarabanjina ? What are some of your favourite memories from Constance Tsarabanjina?
Tell us in the comments below!
Feel free to reach out via our social channels and share your photos with the hashtag #MyConstanceMoment
Hope for sunnier days with #ConstanceWithU
Facebook: facebook.com/constancehotels
Instagram: Instagram.com/constancehotels