Reading Time:
6
minutes
Workation, the noun used to describe combining work and vacation is a word used everso more frequently.
Put simply – it's a vacation that allows you to work remotely while incorporating elements of leisure that lets you unwind, relax and be more productive.
The main idea being, that you take a vacation away from the workplace, but not from work itself.
Not only said to increase productivity, but is there a better way to spend your working week than with the calming sound of the waves brushing up against the shore, the sun beating down on your face and the soft,white sand overlooking your every gaze?
Relax, unwind and immerse yourself in new scenery whilst working remotely at our Constance Hotels & Resorts.
Head over to our spa, take part in a yoga class or even not treat yourself to some delectable, mouthwatering cuisine on your lunch break.
The possibilities within our resorts truly are endless.
So if you want to experience new scenery and spend your well-deserved evening time on the beach instead of with Netflix, why not take advantage of our limited offers and switch up your normal office space for a real-life paradise.
So what are you waiting for? Constance is here to be your workation destination of choice.
What Are The Benefits Of A Workation?
So, what are the main benefits of going on a workation you may ask?
Well, a workation enables you to travel to an unseen destination you've been lusting over to visit but during your working hours.
In theory, you can travel for longer periods of time than a regular holiday – and you can still see the world while earning money.
It may help to spark creativity, increase your productivity and give you a new outlook on a project you've been working on for a while.
And that's definitely a good thing.
Fully relax and unwind, with all your usual chores nonexistent on your to-do list.
Spend your lunch break in style, and when you have finished your working hours, close down your laptop and immerse yourself in the tranquil scenery before your very eyes.
Moreover, lunch break are made tastier 😉 too! Check out the following setting :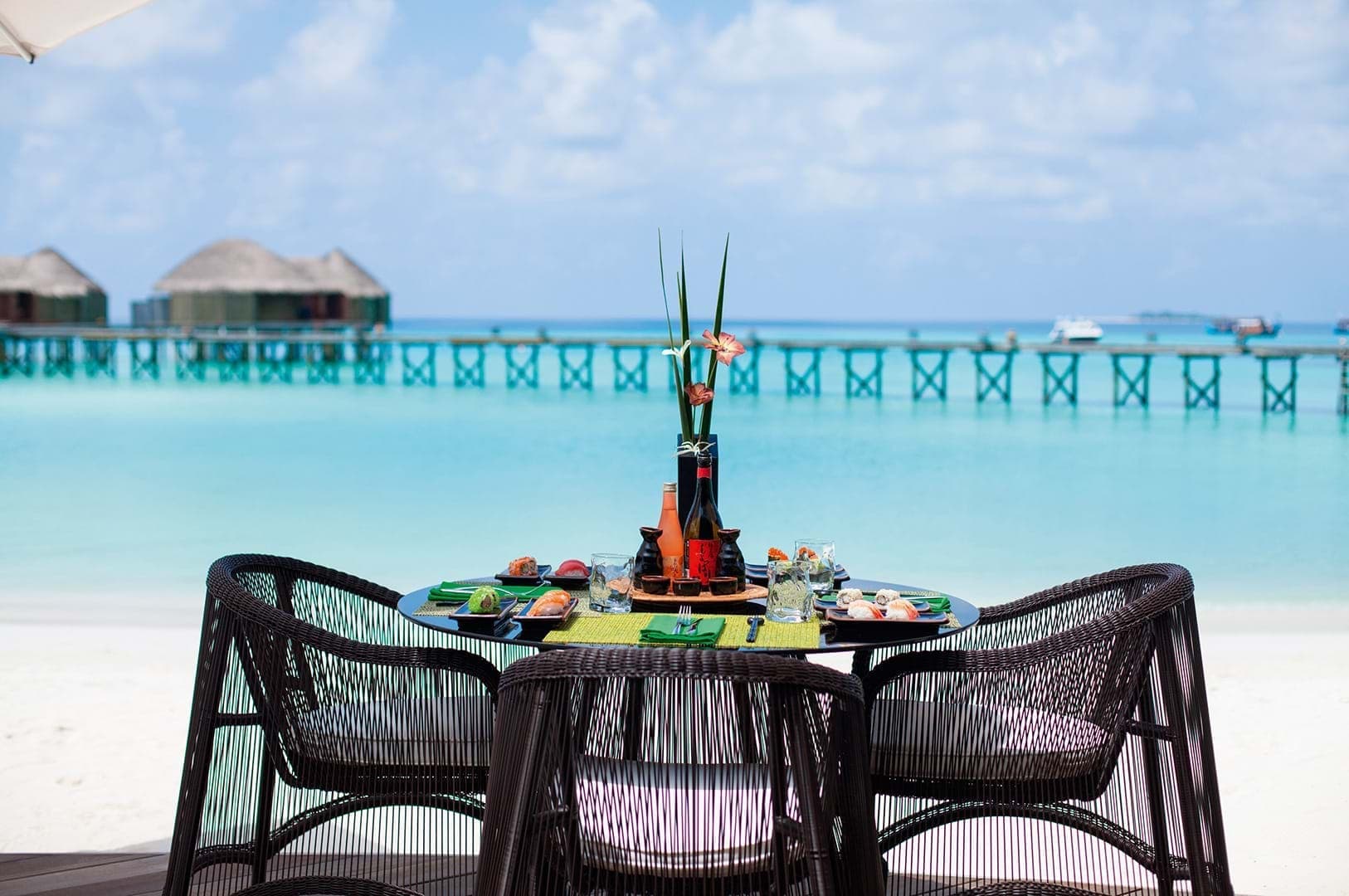 How To Choose A Workation Destination?
So, how do you choose a workation destination? We've put together some question and answers to help you decide:
What climate would you prefer?
If you are after warm sunny days, The Indian Ocean is definitely the destination for you. All year round, the sun is shining, with a warm temperatures throughout the year. With its tropical climate there is always plenty of heat and sunshine.
The summer months are from December to April and the temperatures range between 25°C and 33°C on the coast. The Southeast trade winds make the Indian Ocean the perfect climate. If you are wanting to go during the cooler months, then May to November is the best time to go.
2. Does the resort offer full board?
At Constance Hotels & Resorts, the meal plan are as follows: All-Inclusive, Full Board, Halfboard and Bed & Breakfast.
If an all-inclusive workation is what you are looking for then Constance Tsarabanjina and Constance Moofushi are for you. The rest of our resorts are sold on Fullboard, Halfboard and Bed & Breakfast, read more about what they offer here.
3. Activities to go?
Are you looking to take part in activities outside of your work hours? If so, here are just a few of the activities we offer at our resorts:
If you're looking to play a spot of golf then we have you covered with our 18-hole Championship Golf Course at our Lemuria Golf course. Enjoy the eye-catching views of Seychelles whilst taking part in this great sport.
Looking to dive in the deep blue Indian Ocean? Then don't wait any longer, we have diving opportunities available at all of our resorts.
Diving has many benefits, from stress reduction to improving your strength and flexibility.
Indulge and treat yourself to a relaxing spa day, available at all of our Constance resorts. With our specialist products from detox body oil, relax body oil and rejuvenate body oil, we know how to help you unwind on your workation.
So what are you waiting for? The only thing left to do is to start getting your bags packed.
Our Offers
Are you looking to jetaway to a paradise island, away from the hustle and bustle of everyday life?
Then look no further, make your workation destination of choice unforgettable at one of our luxurious resorts.
And we have good news for you, we also have limited time offers waiting for you.
Yes you heard it right, 40% off. And it doesn't stop there.
If exploring the serenity of Seychelles is also on the list for 2021, then look no further.
We have an exclusive 45% discount for you on all accommodation at Constance Lemuria Praslin valid from the 4th January until the 10th May 2021 with Bed & Breakfast meal plans with a minimum length stay of three nights.
Or perhaps you're looking to explore the depths in the mystical Maldives?
There is also currently up to 40% discount per booking on accommodation on Bed & Breakfast basis at our Maldives resorts, Constance Halaveli and Constance Moofushi. For Constance Halaveli, this offer is valid from 4th January to 28th February and for Constance Moofushi it is valid from 4th January to 10th April.
What greater way to discover a fun new place and spend your time with loved ones, without the added stress of preparing for, missing and recovering from a week off work.
Spend your lunch break dipping into the crystal clear warm water, or sunbathing on the soft sand under the warmth of the sun.
There is no time like the present, so bring back out that summer wardrobe, pack your work bag and fly over to paradise.
There is currently a 40% discount on all accomodation at our Constance Tsarabanjina resort in the tranquil, exotic Madagascar.
This unmissable offer is valid from the 7th of January until the 31st of March 2021 and can be used for bookings that are a minimum length of stay of four nights.
Want to find out what it's like to stay at our beautiful Constance Tsarabanjina resort? Then why not head over to our recent blog here.
If you do choose these beautiful resorts as your workation destination of choice then you will have to have a valid PCR test certificate, read more about it here.
Cancellation Policy #ConstanceWithU
We understand that plans can change, which is why we provide flexible cancellation options to suit your busy lifestyle.
Here's all you need to know:
Deposit Policy: 50% payable upon confirmation. 50% to be paid on arrival.
Up to seven days before the scheduled arrival no charges will apply.
Bookings cancelled between 06 days prior to arrival, on arrival day and for all no-shows will be charged at 100% of total stay – Valid until 31st October 2021.
Book with reassurance 😊
Turn your workation dream into a reality and immerse yourself in the picturesque views of Constance Hotels & Resorts.
It only takes one look up from your screen to appreciate the tranquillity of the surroundings.
Overwhelm your senses with feelings of relaxation, appreciation and wonderlust.
Make your working days feel longer, luxurious and increase your productivity.
We are here for you…
Are you wishing to experience a workation? What would be your workation destination of choice?
Tell us in the comments below.
Feel free to reach out via our social channels and share your photos with the hashtag #MyConstanceMoment
Hope for sunnier days with #ConstanceWithU
Facebook: facebook.com/constancehotels
Instagram: Instagram.com/constancehotels
Twitter: twitter.com/constancehotels