Reading Time:
4
minutes
Relaxation is about taking time for yourself to help you feel refreshed and rejuvenated. If you are looking for intimate islands for relaxation, look no further than Constance Hotels & Resorts.
Our seven paradise islands offer a wide range of options for you to create unforgettable memories in a luxury environment where you can rest assured that every aspect of your safety has been carefully considered.
With private dining areas, a variety of secluded accommodations and thorough protocols in place throughout our resorts, you're free to relax and feel at ease during your stay.
Carry on reading and find out why Constance Hotels & Resorts is the perfect destination for relaxation.
❗️Even though you still have to wait a little longer to come to Mauritius, nothing stops you from planning a trip now. 😉
Enjoy Delectable Food In Our In-Room Dining Areas
Dining with us at Constance Hotels & Resorts has never been such a pleasure.
Relax and have a unique dining experience with our outdoor seating available and marvel at the breathtakingly beautiful views of the Indian Ocean.
Or why not treat yourself to a luxury culinary experience? Here at Constance Hotels & Resorts you can choose À la carte or the buffet option at any of our restaurants.
With our recent COVID measures, we have reduced the number of seats in our refined dining rooms to ensure social distancing is maintained.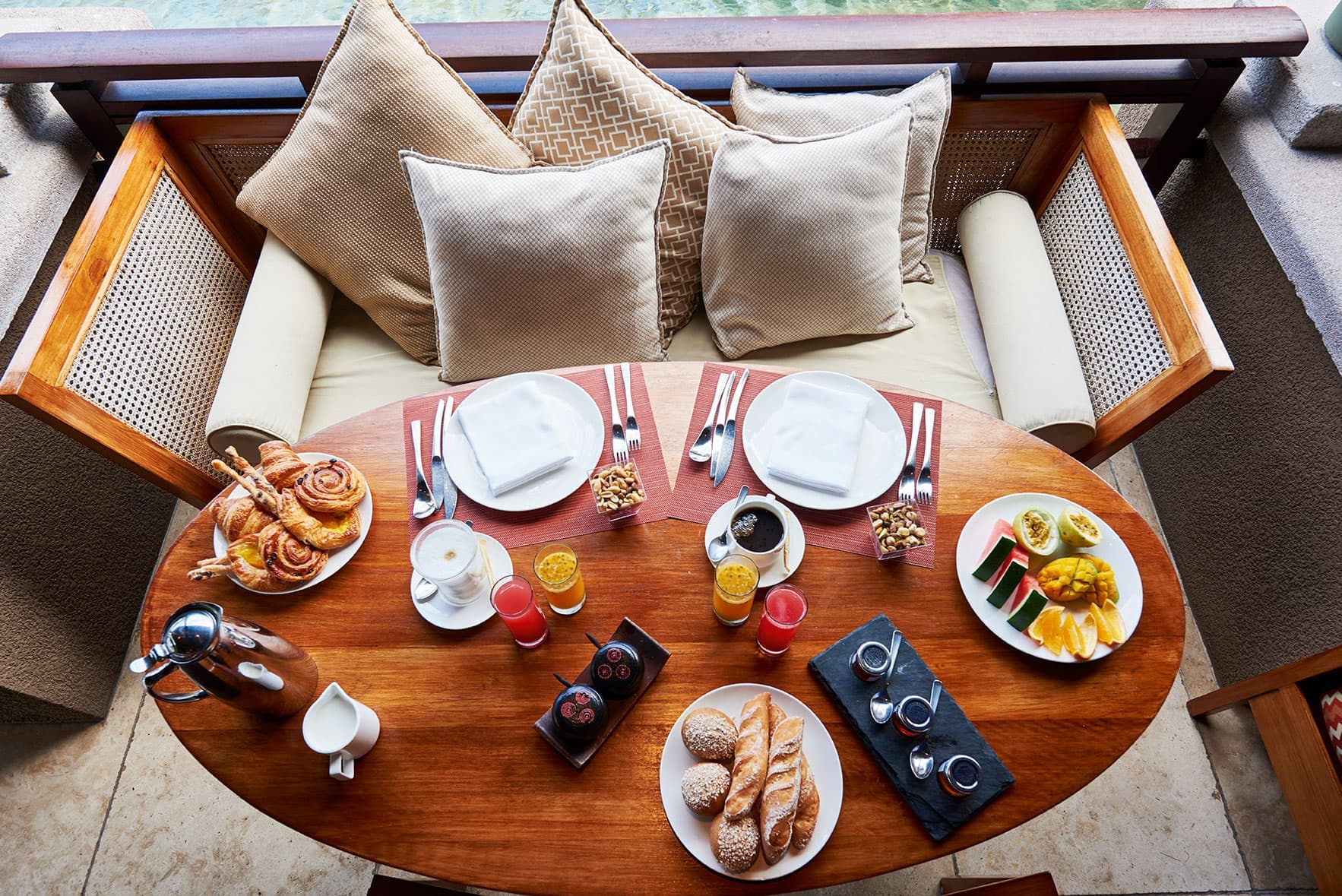 If you want to have a dining experience with an intimate group, then enjoy a private dinner on the beach and feast on delicious dishes and cocktails while taking in the picturesque scenery around you.
Suites and Villas in the Indian Ocean
All suites and villas are spaciously designed and stylishly decorated with stunning views seen from every angle.
Whether you decide to have a private villa or a family suite, the option is there.
Carry on reading to find out the best accommodation suited to you.
At Constance Halaveli you can escape to your luxurious hideaway, intimate and magical setting.
Can you see your family and yourself in this pool? Then take advantage of our recent offer and enjoy up to 40% discount per booking on accommodation on Bed & Breakfast basis.
With the choice of one of the 57 Water Villas, 9 Beach Villas, 11 Family Beach Villas, 8 Double Storey Beach Villas. Or why not go for the lavish Presidential Villa at Constance Halaveli? There truly is something for everyone
At Constance Halaveli, there is the option to have your very own private sun terrace so you can dip in your private plunge pool whilst taking in the spectacular views.
Constance Ephelia offers spacious contemporary accommodations surrounded by lush landscape and scintillating lagoons.
Choose from one of our 42 Tropical Garden View Rooms, 184 Junior Suites, 40 Senior Suites, 22 Family Villas, 16 Beach Villas, 8 Hillside Villas or our unique Presidential Villa.
The accommodation you have dreamed of booking? Constance Ephelia could be for you. And we have good news, from the 03rd April to the 30th June 2021, there is a 35% discount is applicable on accommodation at Constance Ephelia.
Don't miss out on this unmissable offer and book today.
Are you looking to relax and unwind at a secluded private villa located on the soft white sand in the Maldives?
Our villas at Constance Moofushi are stood stilts that float above the turquoise water of the Indian Ocean.
With the choice of one of our 24 beach villas, 56 water villas or 30 senior water villas, why not tick this memorable holiday off your bucket list?
There is currently a 50% discount per booking on Water Villas and up to 40% discount per booking on Beach Villas. All on an all-inclusive basis.

Moofushi is definitely an intimate island for relaxation so book today.

If you are looking for stylish spacious suites and villas, then our accommodation at Constance Lemuria in Seychelles is perfect.
Enjoy elegant spacious suites and villas or unwind in swimming pools seemingly crafted by nature.
You can also indulge in fine food and customised spa treatments at Constance Lemuria, our luxury hotel in Praslin Island, Seychelles.
Book your intimate island experience from the 11th of May until the 30th of June 2021 and receive a 55% discount. If you would like further information on these offers then don't hesitate to get in contact. You can email us or call on 00230 402 2777.

You Can Feel Safe At Our Resorts. Here's Why
You can feel safe and relaxed at Constance Hotels & Resorts with the wide range of sanitary measures we have implemented.
Below are just a few of the protocols we pride ourselves on following throughout your stay:
Mandatory temperature checks at the entrance
Contactless check-in available
Dedicated minimised entry points
Fully automated sanitisation station
Guest luggage disinfection
Room keys are disinfected before every use
Resort vehicle/boat is disinfected before and after transit
Complimentary sanitisers, face masks and gloves made available
Find out why you can put your mind at ease when booking with Constance Hotels & Resorts.
Constance Hotels & Resorts is the perfect intimate island location for relaxation and we hope this blog has provided you with a sense of what is on offer here at Constance Hotels & Resorts.
What do you do to relax? Are you planning on staying at Constance Hotels & Resorts?
Tell us in the comments below.
Feel free to reach out via our social channels and share your photos with the hashtag #MyConstanceMoment
Hope for sunnier days with #ConstanceWithU
Facebook: facebook.com/constancehotels
Instagram: Instagram.com/constancehotels
Twitter: twitter.com/constancehotels