Reading Time:
3
minutes
Don't wait any longer, the world is waiting to be explored. Why not combine golf with a luxury villa holiday in the scenic settings of Seychelles this summer?
For a limited time only, we are extending up to a 40% discount on all accommodation at award-winning Constance Lemuria in Seychelles. Book your golf holiday now!
A Golf Experience Of A Lifetime
Constance Lemuria is the go-to resort for golf lovers with its 18-hole championship golf course.
Opened in December 1999, Constance Lemuria in Praslin was fully renovated and then reopened in November 2016. Built with a modern approach to design and quality, Constance Lemuria continually lives up to the expectations of guests who enjoy pure luxury and a preserved nature.
You can take in the breathtaking views that meet your every gaze as you make your way around the course. Enjoy this experience with friends or family, this truly is an experience to tick off the bucket list.
Not Just A Resort, An Experience
Enjoy your stay at Constance Lemuria and experience, not just a luxury villa but much more…
Relax and unwind in the elegant spacious suites and villas or immerse yourself in swimming pools seemingly crafted by nature.
When you work up an appetite, indulge in fine food and customised spa treatments to help you feel relaxed and rejuvenated after a day of golf.
If you have children, our fully trained coordinators at the Constance Kids Club will take them on exciting, wonderful island exploration trips, culinary activities, scavenger hunts and more.
If a sense of adrenaline is what you are after, then we have world-famous diving sites ready to be explored in the deep depths of the Indian Ocean.
Where luxury villas meet stunning decor, Constance Lemuria bodes as the perfect retreat where you can be amidst vibrant nature and natural materials such as wood, stone, pink granite, marble and thatch palm.
Our villas have been beautifully created to achieve a modern yet warm feel at Constance Lemuria so you can feel at home and can sit back and relax during your stay.
All Suites and Villas, endowed with an exclusive view are luxuriously designed to offer complete comfort at all times so you can spend your evening feeling calm and at ease.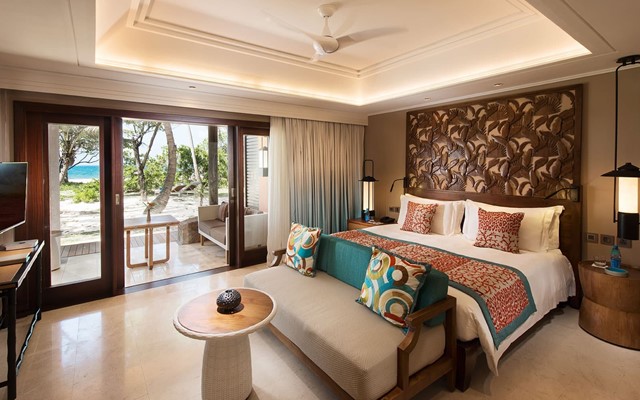 Terms And Conditions
If you are looking to combine golf and beach days, book your stay at Constance Lemuria now.
Here's a sneak peek:
Offer Terms & Conditions:
From the 11th of May until the 31st of July 2021, a 40% discount is applicable on accommodation. Offer on Bed & Breakfast basis.
Minimum length of stay of 3 nights required.
Rates published on the website already include the discount.
Discount is not applicable on any additional meal plan supplements.
Deposit Policy: 50% to be charged upon confirmation. 50% to be paid 30 days prior to arrival.
Cancellation Policy: Up to 07 days before the scheduled arrival no charges will apply. All bookings that are cancelled between 06 days prior to arrival, on arrival day and for all no-shows will be charged at 100% of total stay. Valid from 23rd December 2020 until 31st October 2021.
For any further information, or to book this limited offer, email us or call on 00230 402 2777
Head over here to book your luxury Seychelles escape now!